We spent April 2019 in Nepal. For the first time we went on this long journey with our baby. In Nepal we visited our family and spent a lot of time with our producers. We developed new designs, discussed with our producers about different fabrics and their origin and came home with many new ideas.
Natural Fibre

At Natural Fibre in Kathmandu we produce our clothes from hemp, organic cotton and bamboo. We have been working with Ram Sharan (far right) since the start of TGIFW. When we meet we always first discuss the current world affairs and the political and economic situation in Nepal. After a cup of tea we move on to our business topics. Together with him we chose new colours for the popular bamboo fabric and took some new fabric samples with us to discuss with our designers in Switzerland.

Lehna

Lehna is a producer specialising in the high-quality processing of wool and cashmere. Together with the boss Tsering we selected new colours for autumn/winter. We are very much looking forward to the new scarves. With all Lehna products we know 100 percent where wool and cashmere come from and we know that the animals are well kept and worked without mulesing (removing the skin around the tail without eliminating pain).

Women's Foundation

It all started at the Women's Foundation in Nepal and thanks to the wonderful work of the women's organization hundreds of women are supported and encouraged in Nepal. The women traditionally weave our scarves by hand. On site we learned a lot about the current social projects of the organization and together we finalized our latest collection.

"The statutory minimum wage is 13400 NPR (approximately CHF 122). With us, business managers and production managers earn NPR 30 000 - 40 000 (CHF 275 - CHF 366). And a woman who starts working fresh in production gets 15,000 NPR (CHF 138). Working hours: seven hours a day."

Blessed Hope Nepal

We have only been working with Blessed Hope Nepal for a few months and are delighted with the great work the team is doing on site. It was nice to visit the organisation for the first time and to meet the women who crochet our jewellery by hand. We created a jewellery collection matching three scarf designs and are looking forward to presenting it to you in autumn.

"Most of the women here earn their own money for the first time. They get their wages once a month. They are paid per piece. They decide for themselves how much they want to work and all work from home. On Thursday everyone meets here in the office. They talk a lot and eat naturally."

Himalayan Chengra

With Pandey from Himalayan Chengra we also work with cashmere and we recently designed a new linen/cashmere foulard collection with print. In Nepal we worked on the colours until we were all convinced of the result. And we were amazed at the traditional techniques used to sew fabrics in the factory. Tashi talked to the employees and learned how they enjoyed working at Pandey.

Milha Custom Rugs

Of course a visit to our carpet production was not to be missed. It was exciting to see how fast the weavers were working on the carpets - loud music in the background spread a good mood. We discussed some of our designs and new knotting techniques with the chief designer on site. Now we have a carpet made from wool and banana silk to show the effect of this mixture to our customers in Switzerland.
Some impressions of our trip: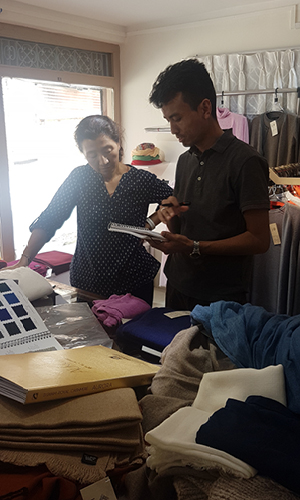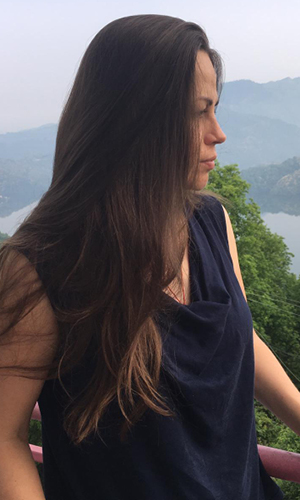 Have a look at the great products we develop in Nepal: